Dear Mom,
Friday was definitely the best day of my week! I'll start with the end, which was my favorite part. Kathleen asked if anyone would be interested in checking out the Dutch masters exhibit at the Frick. Tickets are in high demand, but she figured out we could queue up for the extended Friday hours. Julia got there early (after a macaron break at Laduree) and saved us a spot in line. Kathleen even brought "refreshments" to keep us entertained while we waited to get in. Katie walked up at the perfect time, just as we were moving inside.
The photo policy was a bit bizarre, as Katie and I saw a woman take a photo with flash, so we figured snapshots were fair game, but then I got scolded for shooting this one. Naturally I know better than to take a photo of a painting ("Take pictures with people in them!"), but I thought the crowd was kinda noteworthy. It reminded me of seeing the Mona Lisa and finding the swarm o' tourists to be the most interesting part.
Anyway, Girl with a Pearl Earring is obviously the featured painting (and has its own room), but The Goldfinch is also getting a lot of attention, given the recent release of the eponymous Donna Tartt novel. Kathleen and Rebecca have already read it, and Leigh Ann has it ready for me on the Kindle.
Miss Gail posted on Facebook that she was finishing it and has loved it...when I told her we were going to the exhibit, she asked me to get her a tote bag!
It made me happy that she wanted it, as it reminded me of something I would have gotten for you.
After the museum, we went to a French bistro called Match on 65th. Funny enough, it's where Kathleen's parents took us for dinner in July, and we ended up at exactly the same large back table. (The Carrolls sent flowers to the house in Quincy, which was so thoughtful of them. In my thank you note, I made sure they knew Blucher read at your service, since he and Sam know each other through Sewannee. I think they are both trustees.)
Marianne joined us after work, and the SSG tribe was complete. (SSG: Similarly Situated Gals...or Sassy Smart Gang...or Savvy Social Go-getters).
Friday was a great day at the office too. Andrea and I met downtown for a meeting with a colleague, where we realized we had inadvertently made it a Twin Day.
She has been such a big part of my being able to spend extended chunks of time in Quincy. And, in a real example of the yin and yang of life, it's been a great year for her, as my absences have let her step up and take on more responsibility. She has really delivered, and it makes me happy to be helping her grow in the same way some of my awesome managers (Mona, Sarah, Bill and Dale) helped me.
We celebrated her great year with a fancy birthday lunch at the Four Seasons before the holidays, where we split kale salad, tuna tartare, lobster risotto and maybe something else I can't recall. She charmed the waiters and got two complementary birthday desserts.
You may have noticed I had on my rain boots in the photo. One key to survival in NYC is keeping some extra shoes stashed at the office. I take this to the extreme, as when I lived with Kurt, I actually stored the majority of my shoes at work. Now I still keep most of my heels there, along with the $12 "ghetto boots" I purchased at Duane Reade last year, for emergency use on days when the weather suddenly changes. (Every time I pull them out, I start singing "Apple bottom jeans! Boots with the fur!" which Andrea graciously giggles at as if she's hearing it for the first time, not the hundredth.)
My colleague Anne and I went to lunch and had a fantastically productive time figuring out how we can help each other out in 2014. We treated ourselves to burgers at Hillstone. I think it's Nate's favorite burger in the city.
Saturday was gross and rainy, and I woke up feeling tired, so I stayed in my pajamas all morning and caught up on the thank you notes. (LAS and I are dividing and conquering...she is in charge of house and estate stuff, and I am on note duty, which is actually rather therapeutic.)
Aunt Debbie had sent me your Portmeirion dishes, which was so sweet of her. She promised they'd be here in time for weekend brunch! (The Zappos package is a Santa treat. Photos to come.)
I unpacked them and then made myself pack up the dishes I've been using since 1998. The white dishes came from Miss Patricia, and the blue dishes were from Aunt Tillie. I was sad to see them go, but there is no need to be a china hog, and I'm sure their next owner will enjoy them as much as I have. (I did let myself keep Tillie's "pop of color" yellow plates.)
Around 4:30, I headed downtown to meet Julia at Great Jones Spa. I had to walk east past Washington Square park, and it was fun to see some holiday lights are still up.
The spa was terrific! It has a water lounge with a hot tub, cold plunge pool, steam room and sauna, so we hung out for an hour before our treatments. I indulged and got both a facial and a massage.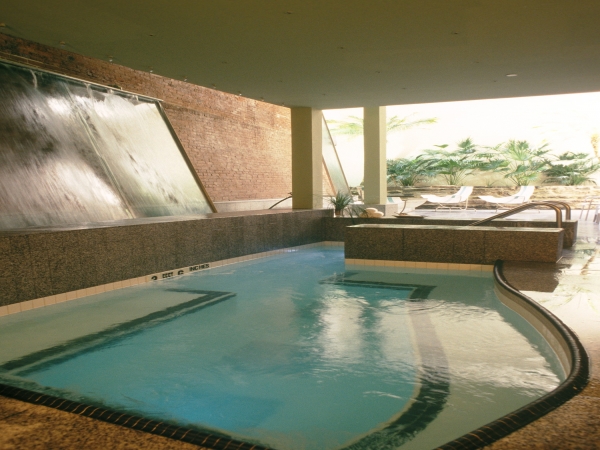 As you can tell, it's been a great weekend so far, with more to come today. In fact, I woke up at 5:00 because I was so excited! Stay tuned for more.
I miss you, Mom.
Saudade,
Lynsley