Dear Mom,
Boy, oh, boy! What a month July was. I became aware that things really seemed to be "swirling" emotionally for me. At first, I thought it was your birthday. But then, over brunch with a friend last Saturday, I said, "July was a really powerful month for me."
And then my jaw almost dropped. Honestly, I'll have to ask her what my face did. I was dumbfounded as I suddenly connected the dots in front of someone else. (And there has been so much dot-connecting going on in this head over the past few weeks, it is about to explode!)
July was always a powerful month for you.
July 7: the day we had the intervention in 1990 to beg Dad to stop drinking and go to treatment
July 10: your wedding anniversary...and Tillie & Jim's wedding anniversary
July 17: your birthday
Not to mention -- July was always a tumultuous month when you and Dad were together and we all worked on the farm in the summers.
Leigh Ann and I started working on the farm around the age we were in the photo above, when we were big enough to stand and put stickers on tomatoes. Minimum wage at the time was $3.35. Leigh Ann and I were paid $3. We protested! That was unfair! You guys offered us a choice: earn minimum wage and pay for our own sodas, or stay at $3 with free drinks. We did the math and decided we were coming out ahead.
Dad had grown up working on his dad's farm, so he just figured we'd do the same thing. He was active in Future Farmers of America in high school.
He started farming after college and never did anything else, though he did try out some various crops along the way, from corn and soybeans to tomatoes and bell peppers, strawberries and sod. (People still talk about that strawberry patch! I remember the jingle you wrote for a radio ad:
Strawberry shortcake!
Strawbery pie!
Preserves on biscuits, piled up high!
It's strawberry time at Thomas B. Smith Farms in Quincy.)
Another part of your "marketing campaign" was getting a feature from the Tallahassee Democrat to come over and do a feature for the weekly Food section. I remember you sent her some sort of strawberry tea towels or something to thank her!
Someone told me a few years ago, "I think your daddy was the hardest-working man in Gadsden County." Even amid my sadness about the way the farm tore apart our family, the way his obsessive dedication to work pulled him away from our home, that made me really proud to hear.
Dad wasn't afraid to make changes and take risks. As he started farming -- following his daddy's footsteps -- Gadsden County's shade tobacco industry was dying out. He raised corn and soybeans when we were little. And he was really good at it! He won industry awards and accolades.
Running a small business was new to you -- Grandmama and Paw Paw always had more traditional jobs -- but you really loved it. Growing up in a small town like Quincy, there really weren't a lot of options for women to do very exciting things professionally, especially not in your era. Supporting a husband who ran a successful business was just about as good as it got!
And you were really good at it too.
I love how proud you look in this picture, when Dad won Young Farmer of the Year. It's almost the quintessential 70s "First Lady" sort of shot.
You loved going to the trade shows...
We all went to New Orleans as a family in the late 80s for the United Fruit & Vegetable Growers national Convention.
While we were there, I got to meet Dear Abby!! My first-ever celebrity sighting!
You loved traveling to those conventions. Designing the displays and entertaining clients...
Belonging to the "club" of "Tomato People"...
Every fall, Leigh Ann and I would stay with Grandmama and Paw Paw, and Mimi and Umpi, while y'all went to south Florida for the Florida Fruit & Vegetable Association's annual meeting. And then, in February, the United convention would always be somewhere new and different, which you loved.
And here's Mr. Ish. Oh, Mr. Ish! A born salesman if there ever was one. We could write a whole blog post on him, couldn't we? I asked Miss Betty if she thought he greeted you in heaven with a hearty, ear-splitting, "WELL, HEY THERE, GOOD-LOOKING!!!!"
Goodness, I'm not sure if it's a good thing or a bad thing we never got to bring a "fella" home to Highland Avenue to meet Mr. Ish. It would have been a hoot, but we might have never seen the poor guy again!
Leigh Ann and I grew up living a life that was built around the seasons of the farm. It dictated the schedule of our family. And that was hard! Summers were intense and unpredictable. Our life would turn topsy turvy. Leigh Ann and I grew up being all too familiar with the financial uncertainties of farming -- the worries about whether there would be enough money for our college educations. Would the line of credit from the bank cover the massive payroll until the checks from buyers started coming in? Would it rain too much? Not enough? Would some new insect attack the crop and destroy it all? Would enough migrant workers come up from Immokalee to harvest the crop? Would "the feds" from the goverment's Wage and Hour Bureau camp out in the office for weeks, demanding to see the employment documentation to ensure we weren't harboring illegal immigrants? Would there be enough employees to pack tomatoes over Fourth of July weekend, when the peak of the harvest coincided with the time everyone wanted to take a holiday?
Jesus, it was stressful!
Dad had a sign in his office, a quote from a guy named Hugh Walpole that said, "Playing it safe can be the most dangerous thing in the world."
I didn't get it. It seemed like justification for a high-risk approach to life -- like gambling. What nonsense.
No wonder Leigh Ann and I both ended up in banking! It's safe, it's secure, that paycheck is going to deposit every two weeks, no matter what. And if you work really hard -- and we do -- because that's how we were raised -- maybe you'll even get a nice bonus!
Right after college, I followed my passion into TV news. And I was really good at it! But the doors just didn't open. And then, a door did open, but not in a way that felt right, and I needed something safer, more dependable, more lucrative. And so, feeling like a failure in TV news -- and knowing there were lots of other things I could do well -- I started at one big global bank 2004, ten years ago, and boom! Here I am. A senior vice president at an even bigger, more global bank.
And sure, there are lots of opportunities for someone with my talent and my background. One of them dropped into my lap in the spring. "This will be perfect!" I thought. I returned to the office in July -- on July 7, funny enough. The anniversary of that intervention in 1990, the day our lives changed forever. Donna Tartt has a great line about those anniversaries in
The Goldfinch:
"It used to be a perfectly ordinary day but now it sticks up on the calendar like a rusty nail."
What's happened in the subsequent weeks is hard to explain to anyone who hasn't worked in a ginormous global company, where anything involving HR can move at a snail's pace. It sounds wacky, but it honestly feels like a sort of universal intervention, a kick in the pants to get me to make a massive, long-needed change. The bottom line is, it became crystal clear to me in recent weeks that it was time to heed the still, small voice inside me that has said for years:
How did you end up here? This isn't your place! Just because you can do this doesn't mean you should do it.
Last spring, I went to a workshop led by a woman named Tama Kieves. I'd been following her for years, ever since my friend Lisa Rubenson shared
this post from her
, which I have read and reread a dozen times. As Tama puts it:
It takes more effort to create a life you don't want than to create the life you crave.

An unused gift is a keg of dynamite. It's dangerous. It leaks out and begins to poison you. It haunts your cells with a hoarse song, "use me or die, use me or die." Your gifts are powerful energy sources. It takes so much energy to hold back life. It hurts to choose smallness. It hurts to let yourself down in secret ways, muffling the cries that no one else hears. It hurts to resist the evolutionary instinct within you to grow, express, go beyond survival and thrive, and stake your one true place upon this planet.
And that day I spent with her last spring, the main thing I took away was this:
If you're this good at doing something you don't love...how good could you be doing something you love?
Or, as Anais Nin succinctly put it: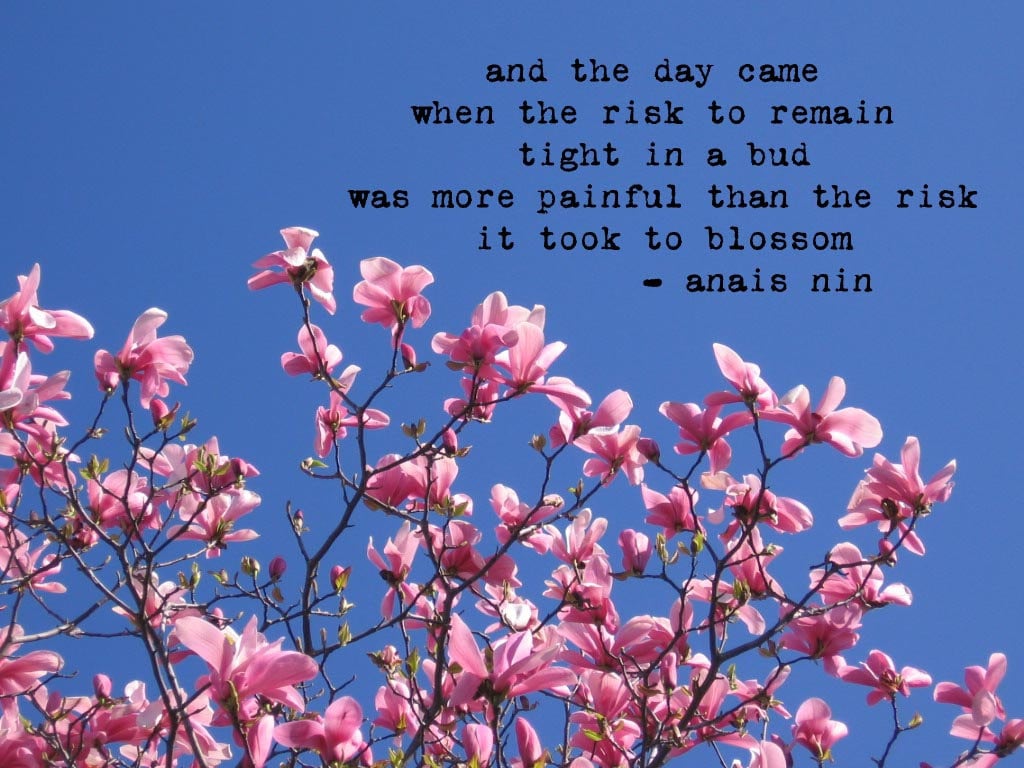 Or, as Thomas B. Smith would have said, courtesy of Hugh Walpole, (whoever the hell he was):
Playing it safe can be the most dangerous game in the world.
The past few weeks have been both scary and exciting. (Didn't I post a few weeks ago that's how you know when you're on to something?!) I felt like a kid whose training wheels had been taken off her bike!
A little bit shaky. Wobbling here and there. But mostly thinking, "
Yeah! I can do this! I'm a big girl. I've practiced, and I'm ready for it. Let's get rid of those silly training wheels. I'm not a baby anymore. Let's ride, y'all!"

My dream, my heart's desire, has been to travel and to write. Starting next week, I will be taking a leave of absence from my current job to do just that, though I'll be based in NYC until at least March. Hopefully longer! I love it here.
My "project" will be completing a memoir I'd started and abandoned -- a project that I now know is ready to be finished. And whether it's just for me, or whether it's something other people find meaningful is insignificant. It's a story I have to tell, a story I must tell, a story that is bubbling out of me with a creative force that is irresistible and almost uncontrollable. (How I have, in fact, managed to contain and control it will be the story for another post.)
And so, I will be traveling, and writing, and spending time with precious friends and family (our "frelatives"), enjoying the bounty of a life rich in relationships, just like you taught me to build. And, most importantly, spending time with Dad, whose life has changed dramatically in recent months. It's no secret my relationship with him never really recovered from the intervention. We've got a lot of lost time to make up for, an opportunity to heal a lot of brokenness. And I know that would make you so very, very happy.
Side note...to complete the photo series...here's Leigh Annie on her bike. Is she adorable or what?!
And, while I'm knee-deep in the 80s photo archive anyway, here's one more synchronicity you would have loved, given your passion for literature. As all of this swirled in recent weeks, I got an email from a friend who knew what was going on:
I hope these words resonate with you as they do me....
"If a man does not keep pace with his companions, perhaps it is because he hears a different drummer. Let him step to the music which he hears, however measured or far away."
"If one advances confidently in the direction of his dreams, and endeavors to live the life which he has imagined, he will meet with a success unexpected in common hours."
"Make the most of your regrets; never smother your sorrow, but tend and cherish it till it comes to have a separate and integral interest. To regret deeply is to live afresh."
Remember Dad's drum set on the back porch? Poor Leigh Ann, just trying to make a little music, and there's her pesky little sister...
Leigh Ann and I literally grew up being able to drum out our own beat! And yeah, it was noisy as hell at times, but is that a cool metaphor or what?
And so, July was a powerful, transformative month, a month of creation and destruction, of endings and beginnings. Just like it used to be. And I can feel your spirit so deeply with me. I know just what you would say if you were here, if you knew now the way everything would play out, how quickly your cancer could come back, how soon your life would end, how haunting it can be not to make the most of every beautiful day in this "one wild and precious life"* we get.
March On!!!
Saudade,
Lynsley
* See Mary Oliver's poem "
The Summer Day
."
P.S. To my earthly, living readers who follow this blog and so graciously cheer me on -- which means so much -- you are obviously welcome to share this blog with anyone else who might find this journey worth following.
Given the power of social media these days, publishers like for authors to prove they have a built-in audience. So, I'm also happy to accept Facebook friend requests from anyone you know who might think my postings and ramblings are worth reading...if, in fact, my little book project does turn into literature, and not just my own personal therapy.
THANK YOU from the bottom of my heart for encouraging and affirming my writing and convincing me that this is not a wacky gamble, but it is, in fact, honoring and following my inspired and unexpected path in this crazy, delicious world.
Biggest thanks of all to the teachers who -- in addition to my mom -- ever put a pencil in my hand or an encouraging note on a paper -- and that means YOU, Miss Betty, and Miss Bunny, and Aunt Debbie, Miss Dot and Miss Faye and the Little Red Schoolhouse, and Miz Holly, and Coach Stack, and Coach Morris, and ESPECIALLY Coach Wilder "bless his heart," and Miss Suzie and Ms. Lindstrom and Ms. Claudia, and Miss Sheryl, Miss Allison, and Mrs. Woodward, and Mrs. McKeown, and "Sharon," and you, Christina Askounis, and you, John Dancy, and on and on and on and on...too many to name. And if I forgot you, I'll give your your own post to make up for it!